From kids to adults, South Indian breakfast is an all time favourite for us all, ain't it? 
But for parents, a leisurely Dosa would mean investing time in soaking the ingredients and waiting for them to ferment. And aren't we always racing against every precious minute?
So here are 5 Instant Dosa Recipes for Kids by Jasmeet of MommyVoyage. They are healthy, yummy and best of all, super easy to cook!
5 Instant Dosa Recipes for Kids
Dosa, the savoury cousin of the pancake, is a universal favourite with most kids. The beauty of dosa is it's versatility. Change the shape, size or base flour and you have at hand literally hundreds of varieties that can double up for breakfast or evening snacks. And this healthy snack for kids is great at covering for missing nutrients.
1. Instant Rava Dosa Recipe
Rava Dosa are one of the most easiest dosa's to make sans grinding, soaking unlike other dosas. What makes this special is the usage of less oil to make them crispy.  They are super yummy and you get perfect dosa's every time.
Ingredients
2 tablespoons semolina
2 tablespoons rice flour
1 tablespoon cream
1/2 teaspoon cumin seeds
A pinch of asafoetida
Salt to taste
Method
Mix all the ingredients until its smooth. You can also add chopped onions and coriander to the batter for a variation in taste.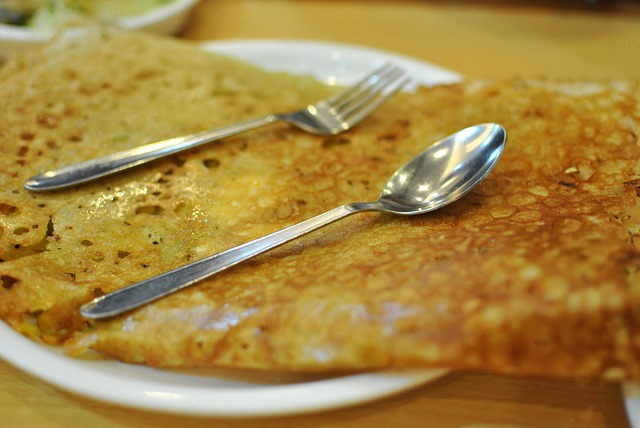 2. Ragi Dosa Recipe
Finger Millet, also known as Ragi or Nachni is one of the most nutritious foods and a favourite for many. Ragi dosa is a perfect dosa for kids as a nutritious substitute to the regular rice based dosa. You can also add potato masala or spread grated carrots and beetroot to give it a twist.
Ingredients
2 tablespoons ragi flour
2 tablespoons rice flour
Grated carrot and beetroot (optional)
Salt to taste
A spoonful of cream/curd
Method
Mix all the ingredients with sufficient water to make a smooth batter without lumps. Serve it with sambar and coconut chutney.
3. Green Gram Dosa Recipe
Green gram dosa, similar to the moong dal chilla of North India, is popularly called pesarattu in Andhra Pradesh. This high protein dosa is made from whole moong or split moong dal, and is a wholesome meal for your little ones.
 Ingredients
1/2 cup of moong dal (you can use green moong or yellow colour moong dal )
1/2 cup rice
A few cumin seeds
A small piece of ginger
1 green chilly
Salt to taste
Method
Soak the dal and rice in water for about 30 minutes. Drain the water out and add the other ingredients to it. Add water and blend the mixture to make a smooth batter. Add oil to make it crispy. Best served them with  ginger chutney and sambar.

4. Instant Wheat Flour Dosa
This instant dosa is a good substitute to rice based dosas and the batter can literally be whipped up in minutes. It is a breakfast staple in many households with kids because of its less preparation time.
Ingredients
1/2 cup wheat flour
1/4 cup rice flour (optional – add to make dosa thin and crispy)
A few cumin seeds
Finely chopped curry leaves/coriander leaves
Salt to taste
Method
In a bowl, mix all the ingredients. Add water to make a smooth batter.
5. Oats Dosa Recipe
Oats! Having discovered oats about 10 years ago, Indians are using them to make poha, upma, pulao etc. So why not a healthy dosa for kids too?
Ingredients
1 cup oats powder
1/2 cup rice flour
1/4 cup semolina
1/2 cup curd
cumin seeds
finely chopped coriander leaves
salt to taste
grated ginger
finely chopped green chillies ( depends if your child likes them )
1/2 medium sized onion ( if your child likes onions )
Method
Dry roast oats in a pan for about 5 minutes until they turn slightly brown. Grind the roasted oats to make a fine powder. Add this powder to a mix of rice flour, semolina, salt, curd and water to it to make a smooth batter. Stir until all the lumps in the batter dissolve and keep it aside for 10 minutes. Add chopped green chilies, coriander leaves, onions, and more water if needed.
How to Cook a Dosa?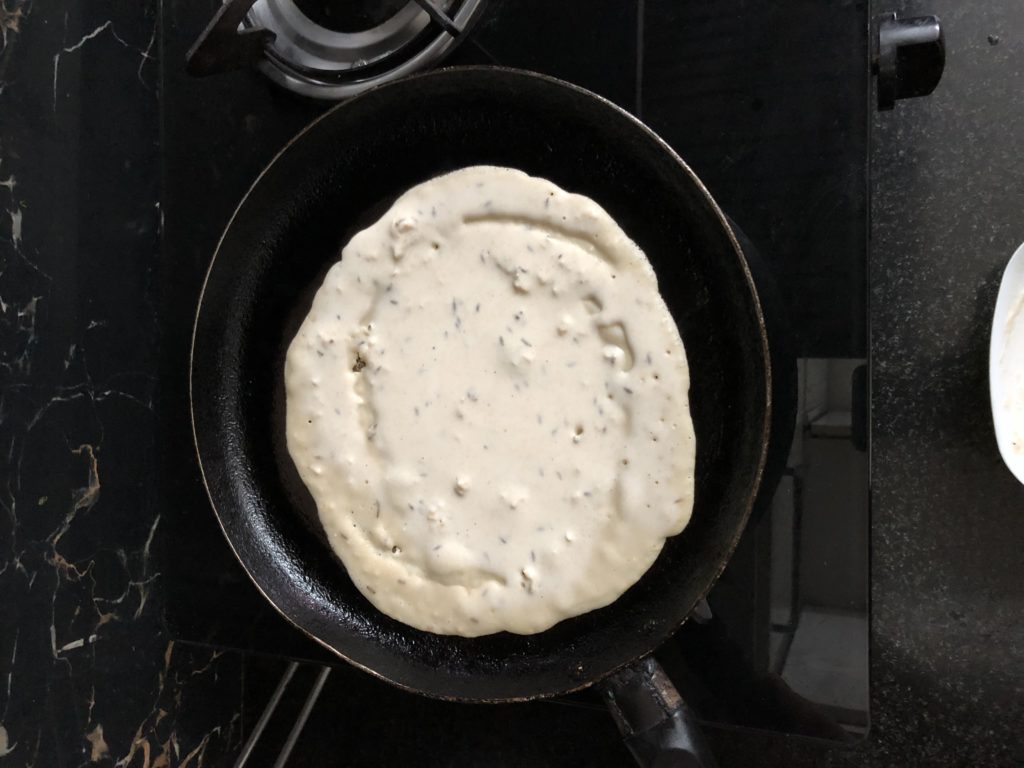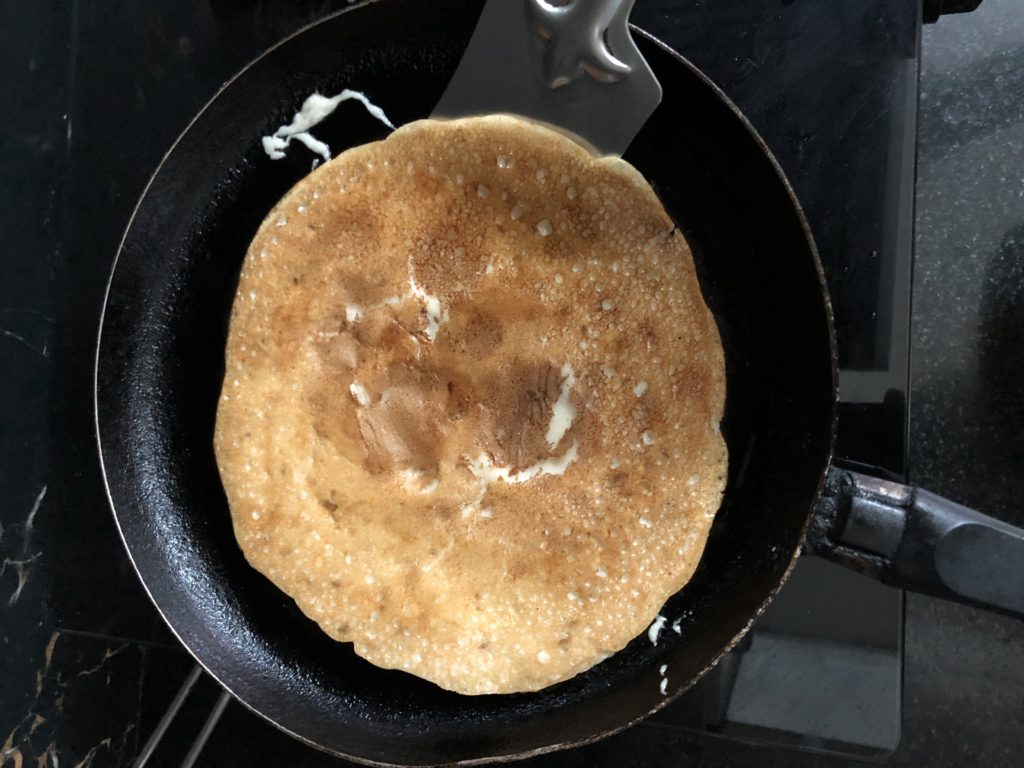 Heat a non stick flat pan (tawa) and pour the dosa batter in the center of the pan.
Spread it quickly in a spiral outward motion of form a thin pancake.
Pour a spoonful of oil/butter/ghee on the edges to grease the Dosa.
Cook until the Dosa is golden brown and its edges leave the pan
Using a spatula carefully turn the Dosa and cook from the other side.
Once cooked from both sides, fold the Dosa and remove it from the pan.
Extra Tips for Making the Best Dosa for Kids!
Rub a piece of onion on the pan before your pour the batter to make crispy, non sticky dosas. Do it after making every dosa on a pan, so the next one comes out as crispy and non sticky.
You can make an uttapam with any of these batters mentioned above. Pour a slightly thick layer of the batter on the pan and add finely chopped onions, tomatoes, green chillies and coriander leaves on the dosa just after you have poured the batter on the tava. Now carefully turn and cook from both sides.
Add nuts powder, seeds powder, grated veggies, or even soya bean flour to make these dosa healthier for your kids.
For a multigrain dosa, mix of any or all of the flours into a smooth batter and cook as above.
For some extra nutrition points, add an egg to the dosa.
If this is still too much trouble, buy yourself some superhealthy instant dosa mix from Slurrp Farm instead!
Source: mommyvoyage.com
And finally, do you guys have any interesting Dosa recipe that's a hit with your kids? Share in the comments section below!