All my Mumbai based friends had been after me to review The Mumum Co snacks range. And after a prompt from Amazon to try their products, I decided to take the plunge.
So I browsed their store and realized there was no Combo Pack (and I would have to order a whole slew of packs – each with multiple units! – to taste the range). Not again. I have done that with other products and believe me it's no fun. Variants of products that I think are worthy of my child's tummy keep on lining my cupboards unused. Because very often, she doesn't want them. Ultimately, either I eat them or they get thrown away.
And so, I wrote to the team about my need. They responded, "Sure, but give us a little time". And soon, the new "The Mumum Co Combo Snack Pack" was ready to buy.
The Mumum Co Snacks Review
About the Product
The Mumum Co snacks range boggled me a bit. Crunchies, Sprinklies & Melties? Yes, on paper and at first glance, Mumum Co products ticked every box on the list – for both parents and children. But did that translate into reality? Little Food Diary decided to find out.
Packaging – The products came very neatly packed. I was also pleased to see the colourful boxes.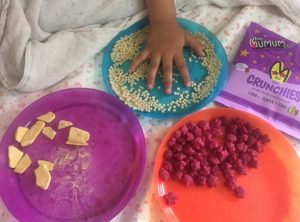 Fun & happy are the words that came to mind. The children, in fact, got very excited seeing the packs and wanted them opened asap!
Taste – These products are definitely made for the younger ones. The simple & grab-friendly shapes, mild flavours, easy textures and the rich colours, all exert a strong pull on toddlers.
The flavours especially, are neither too sweet nor too salty. It's like eating G-rated namkeen 🙂
Variety – The Mumum Co Combo Snack Pack introduced me to their entire range.
Crunchies – Corn, jowar and ragi puffs in two flavours: Banana Strawberry and Beetroot. They are a cute star shape.
Sprinklies – Rice & barley puffs in both Strawberry Banana and Apple flavours. These are tiny balls which can literally be sprinkled on anything. They tend to be difficult to eat by hand and can often be found in deep recesses of sofas, carpets and beds many days later too.
Melties – These are different in that they are actually freeze dried fruit. These are available in two flavours as well: Strawberry Banana (of course!) and Mango Banana.
Ingredients –  Mumum Co products contains all the good stuff you want your kiddos to eat. Rice, Ragi, Jowar, Barley, Corn. All mixed with a generous dose of fruits. And of course, there is NO junk. No preservatives, no added sugar, no artificial flavours nor concentrates. Not even salt.
Portion Size – Each of the packs (some are 10gm, others 20gm) are a single serving portion. As is usual in kiddie foods, there is no mention of portion size but guessing from grammage and calorie size, one pack at a time should be adequate for the child.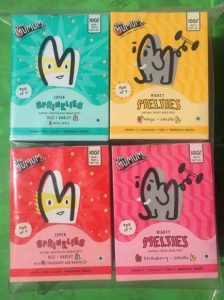 Appeal To
Children – I think Mumum Co products are fabulous for parties or even play dates. Children will love grabbing these colourful treats and munching all over them. But when they are on their own, the mild flavours may bore them. The packs suggest eating them mixed in yoghurt for a crunchy raita/pachadi or like a breakfast cereal in milk. And those will probably be a way for older children to consume them.
Weightwatchers – Good in-between snacks but many adults will feel unsatisfied by them, leaving them wanting for more (more salt, more fat!).
Workout Snack – Shake them into your smoothies or mix into your muesli/yoghurt if you must.
The Mumum Co snacks is available at LFD Shop, Amazon, BigBasket and many high end stores in Mumbai like Foodhall & Godrej Nature's Basket.
Pricing
All of Mumum Co's products come in boxes with 4 servings. And each box of Sprinklies & Crunchies sells for ₹160 a pop, while the Melties range is a tad more expensive at ₹220 per box. The pricing fits right in with all the other 'specially made for kids' products, so while they are not expensive, I wouldn't call them cheap either.
Overall Appeal
3.5/5