What is Hungry Foal? A social enterprise making cheap, healthy snacks for kids and a partner to the Government of India in eliminating micronutrient deficiencies in children.
Hungry Foal's model is intriguing. Started by a food technician and a serial entrepreneur, Hungry Foal aims to create products to provide Nutrition For All children, whichever income bracket they may belong to. The problem they are trying to address is very real and it could do with many such solutions.
Hungry Foal Review
Before I go through with the review, let me say upfront that I tried to buy Hungry Foal's products off their website. There being no e-commerce option, I instead emailed them to ask about retail stores I could buy from. In response, they wrote back to say that they send free samples to all those interested in taking their monthly subscription. I wasn't sure of the subscription, but got the samples anyway.
About the Product
In keeping with their mission of providing complete snack food portions for children, Hungry Foal's products are all protein, fibre and micronutrient rich.
Packaging – Hungry Foal sends its goodies in a cake style paper box. Makes it all a lot more environment friendly! Individually, each product has different packaging. So the choco chip muffin comes in a plastic tear away bowl, the bars are in typical energy bar wrapping while the 2 savouries are packed in lovely paper bags with ziploc fastening.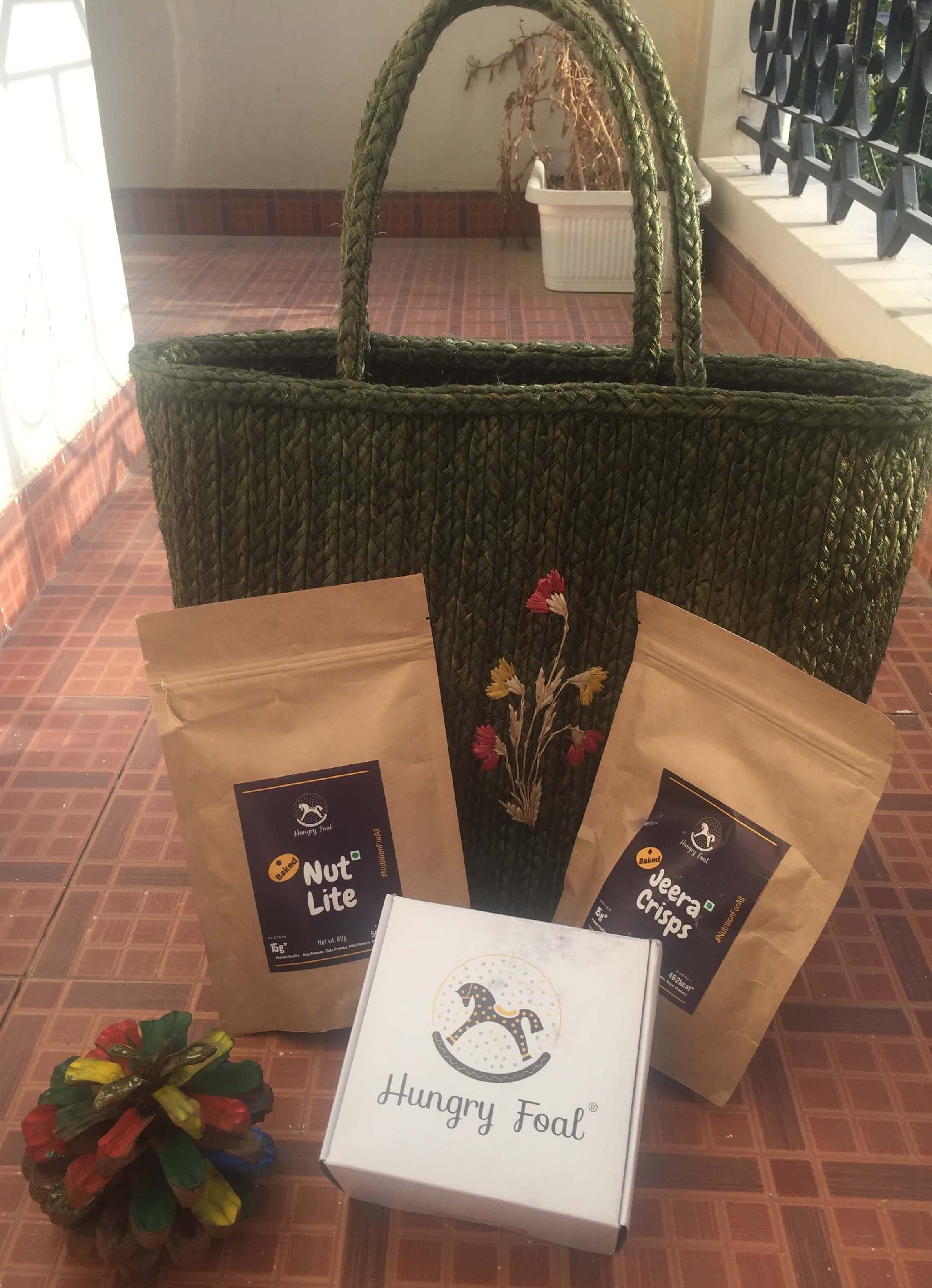 Taste – The products themselves are reasonably tasty. The choco chip muffin and the 2 snack bars were well received. The Jeera Chips were fabulous and I am going to be ordering these regularly for myself, even though my 4 year old did not like the strong cumin flavour at all. The Nut Lite mix was interesting and had mixed success.
The good thing is that all the products have different textures. From the chewy granularity of the Energy Bites to the softness of the muffin and the crunch of Nut Lite & Jeera Chips. Something for all tastes.
Variety – Hungry Foal sells 6 products as of now:
Classic Energy Bites – Energy Bar
Choco Energy Bites – Energy Bar
Choco Chip Muffin
Panjeeri – a sweet, nut heavy snack
Nut Lite – sweet & savoury mixture
Jeera Chips – baked nacho style cumin flavoured chips
Of these, I received 5 in the trial pack (the panjeeri was absent).
Ingredients – Hungry Foal stays true to its mission of providing cheap, healthy snacks for kids. All its products have fibre & protein rich ingredients like millets, oats, ragi, almonds, etc. Moreover, these are fortified by micronutrients and affordable by lower and middle income families.
So, there is heavy emphasis on oat protein, wheat protein, nut protein, soy protein & milk protein in each product. Micronutrients abound through condiments like cumin and dry fruits like almonds, cashews and raisins.
Hungry Foal does use artificial stabilisers and emulsifiers in their products. This is not the same as preservatives and artificial flavours used my most packaged brands, but it is good to be aware that the products are fortified and derived with some external help.
Portion Size – Both Energy Bites & Muffin are small enough to be a single portion for pre-schoolers (and some school going kids too). The Chips and Nut Lite are a sharing pack. In any case, 1/4th or 1/3rd serving at one go is adequate.
Appeal To
Children – The sweet products will be surely loved by all children. The younger ones may not like the savoury snacks as much but they are tasty and made with kids in mind. So it's probably a matter of time.
Weightwatchers – Hungry Foal products are aimed at providing fibre, protein and micronutrients. Calorie consciousness is not in their DNA. So while these products may not help you lose weight, they are better snacking options than most other packaged ones available otherwise. Choose judiciously and be portion conscious.
Workout Snack – The Energy Bites (energy bars) are great workout snacks. These are good both for pre- and post- workouts. Jeera Chips & Nut Lite, are good as in between meal snacks while Panjeeri should be a good energy boosting pre-workout snack. The Chocochip muffin is avoidable.
Where Can I Buy From?
Buy Hungry Foal Energy Bars from the LFD Store or Amazon as of now. Grofers, BigBasket & Nature's Basket will soon start stocking them as well. One can also write in directly to Hungry Foal for delivery.
Pricing
The pricing is a revelation. The Classic Energy Bites are priced at ₹5! This truly can be a game changer. The Jeera Crisps and Nut Lite are sold at a princely ₹30.
Overall Appeal
4/5
The product set from Hungry Foal is wonderful. What is even more wonderful is their mission to make nutrition appealing, affordable & accessible to all.