With kids buried in school activities and exams, they need healthy winter friendly munchies for stamina and concentration.
Protein Rich Snacks for Kids
No Bake Energy Balls infused with nuts and seeds (or Fancy Laddoos as we like to call them) are loaded with good quality protein, carbohydrates and fats.
These kid friendly energy ball recipes from The Lean Green Bean are our new favourite in the snacks department. And just like Healthy Muffin Recipes for Kids, they are easy to prepare, made with wholesome ingredients and each packs a protein punch!
The beauty of these protein balls is that they can be made well ahead of time and stored, so kids can easily have them on the go. They are as brilliant for breakfast and snacks as they are for school lunch fillers. And they are all vegetarian. And can be adapted for vegans too.
Below are four recipes for perfect tiffin box snacks.
PUMPKIN NO BAKE ENERGY BALLS

The pumpkin energy balls are a simple mix of nuts, seeds, pumpkin, oats, dates and spices. Basically high on fiber, protein and healthy fats! They are perfect for  adding to lunch boxes, serving for an after-school snack or just as treats. Ingredients and recipe are below.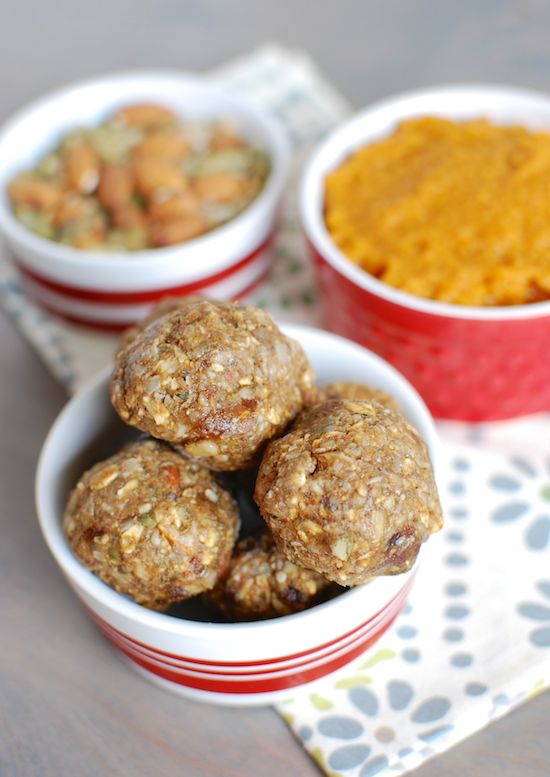 Ingredients
3/4 cup shelled pumpkin seeds
3/4 cup almonds
1 cup chopped, pitted dates
1/2 cup rolled oats
1/4 cup hemp hearts (you could sub a few Tbsp chia seeds)
1/2-2/3 cup pumpkin puree
1-2 teaspoon cinnamon
1/2-1 teaspoon ginger
1/2 – 1 teaspoon vanilla
mini chocolate chips, optional. Avoid for vegan version.
Method
Add almonds and pumpkin seeds to a food processor/ mixie and blend until well ground. Transfer to a bowl.
Add dates, oats, hemp hearts, cinnamon and ginger in the food processor till well chopped.
Add pumpkin and pulse a few times.
Add nut and seed mixture. You may need to use a spoon to help get everything mixed.
Taste and adjust if needed, adding more pumpkin and/or spices if desired.
Add mini chocolate chips and pulse a few times to mix.
CHOCOLATE COCONUT PISTACHIO BITES
This is a crunchy sweet bite that requires no baking whatsoever! These are loaded with flavour from Pistachio and coconut and are super easy to put together.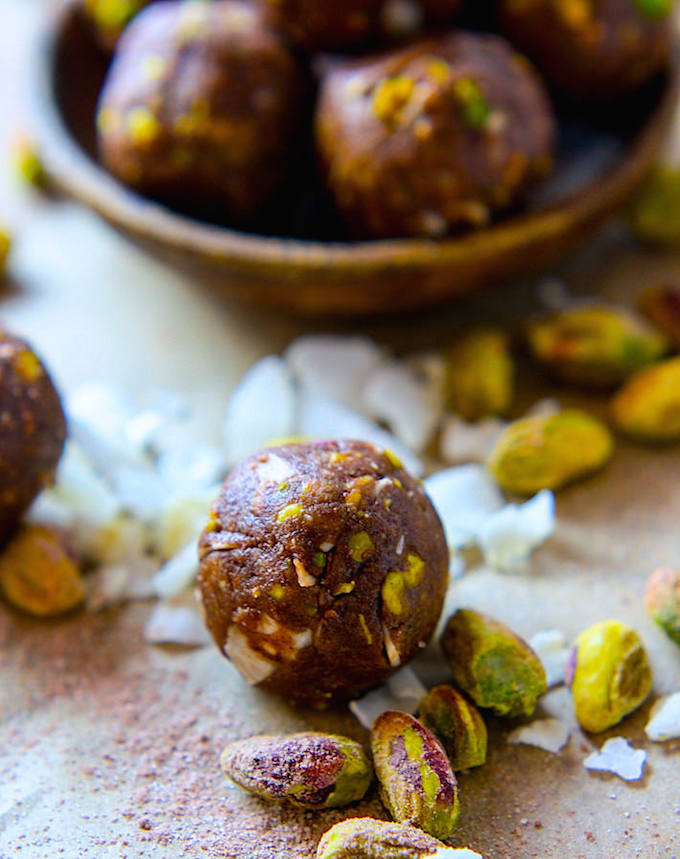 Ingredients
1 cup unshelled pistachios
1/2 cup raw coconut
1/4 to 1/3 cup coconut flour
1/2 heaping cup of cocoa powder or chocolate protein if you don't have cocoa
1/3 cup almond butter (or nut butter of choice)
1/3 cup maple syrup or honey (for vegan version, avoid honey)
1/2 tsp vanilla extract
Optional add in, 1/2 tsp coconut extract for extra coconut taste
Method
Blend pistachios in a food processor. Transfer into a large bowl and add in all the remaining dry ingredients with the honey being the last . Add your extracts and any other add ins. Mix well (use hands for best results) then roll into bite size balls.
If the batter is too dry add more almond butter and/or honey. If it's too wet, add more coconut flour.
LEMON NO BAKE ENERGY BALLS
Bursting with citrus flavor, these Lemon Energy balls make the perfect snack. Made with just 5 main ingredients, and perfect for stashing in the fridge or freezer!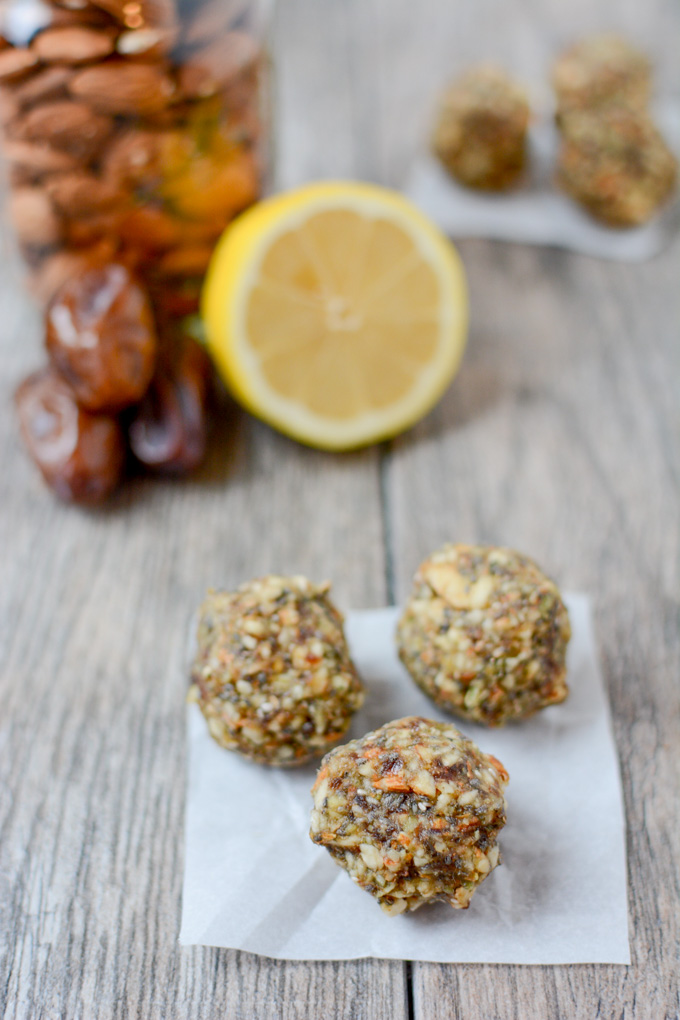 Ingredients
1 cup dates, pitted and chopped
1 cup almonds
1/2 cup shelled pumpkin seeds
2 tbsp chia seeds
zest and juice from a medium lemon
1/2 tsp vanilla extract, optional
Method
Put dates, nuts and seeds in a food processor and pulse several times to chop.
Add the lemon juice, zest and vanilla and process until mixture comes together.
Form into balls and store in the fridge or freezer.
CHOCOLATE BROWNIE NO BAKE ENERGY BALLS
These chocolate brownie balls are honestly irresistible. They have a great combination of chocolate and nuts  which creates a good balance of carbohydrates, fats and plant based protein. The kind of Protein Rich Snacks for kids no kid will refuse.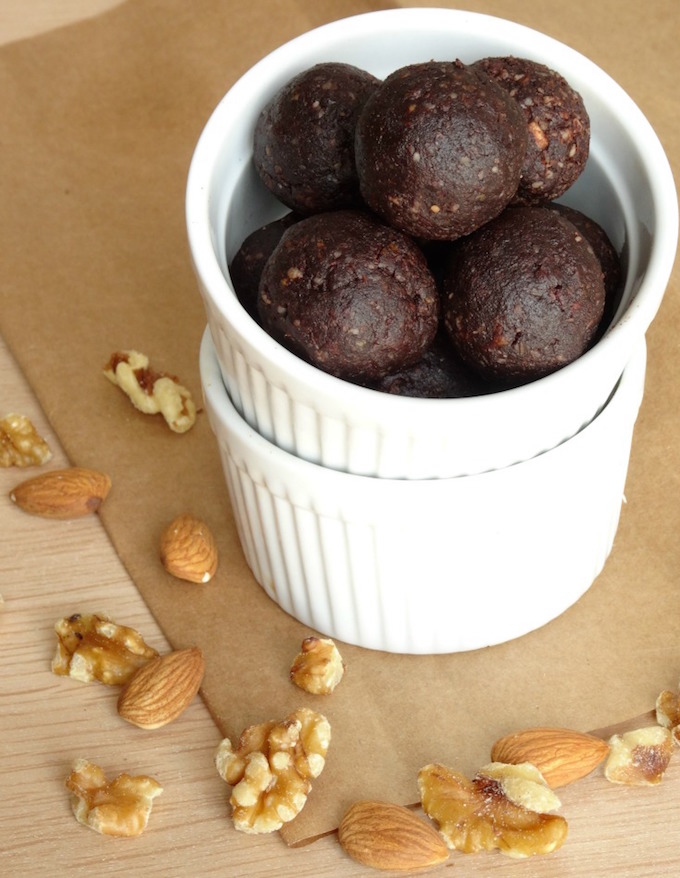 Ingredients
1/4 cup walnuts
1/4 cup almonds
1/2 cup pitted dates
3 tablespoons unsweetened cocoa powder + extra for dusting
Method
Place all the ingredients into a mixie and blend until you've got a thick dough.
Scoop out 1 tablespoon-sized pieces and roll each one into a ball. If the mixture is too dry and crumbly to form balls, wet your hands with water and try rolling the balls again.
Roll each of the balls into a small bowl filled with cocoa powder and store inside an air-tight container in the fridge.
Source: www.theleangreenbean.com