The owners of Slurrp Farm, Meghana Narayan and Shauravi Malik, located the exact gap in the kids food market a few years ago and went all gun blazes to fill it. And it seems to have worked.
The Slurrp Farm Cookies range is probably the best distributed in its category, viz., artisanal real ingredient based kids cookies, in the Delhi NCR region.
Slurrp Farm Cookies Review
About the Product
Packaging – Slurrp Farm cookie packs look just the way they should be, like all other commercial packs with fun graphics on them. Children have herd mentality just like adults and they too like to consume what everyone else is eating (just count the number of times your little one says… "but my xyz friend eats this, does that, goes there. Why can't I?"). And picking up a pack of Slurrp Farm cookies means you are not straying much off the beaten track. 5 points to parents.
To top it, there are interesting factoids on each pack that could be good conversation points.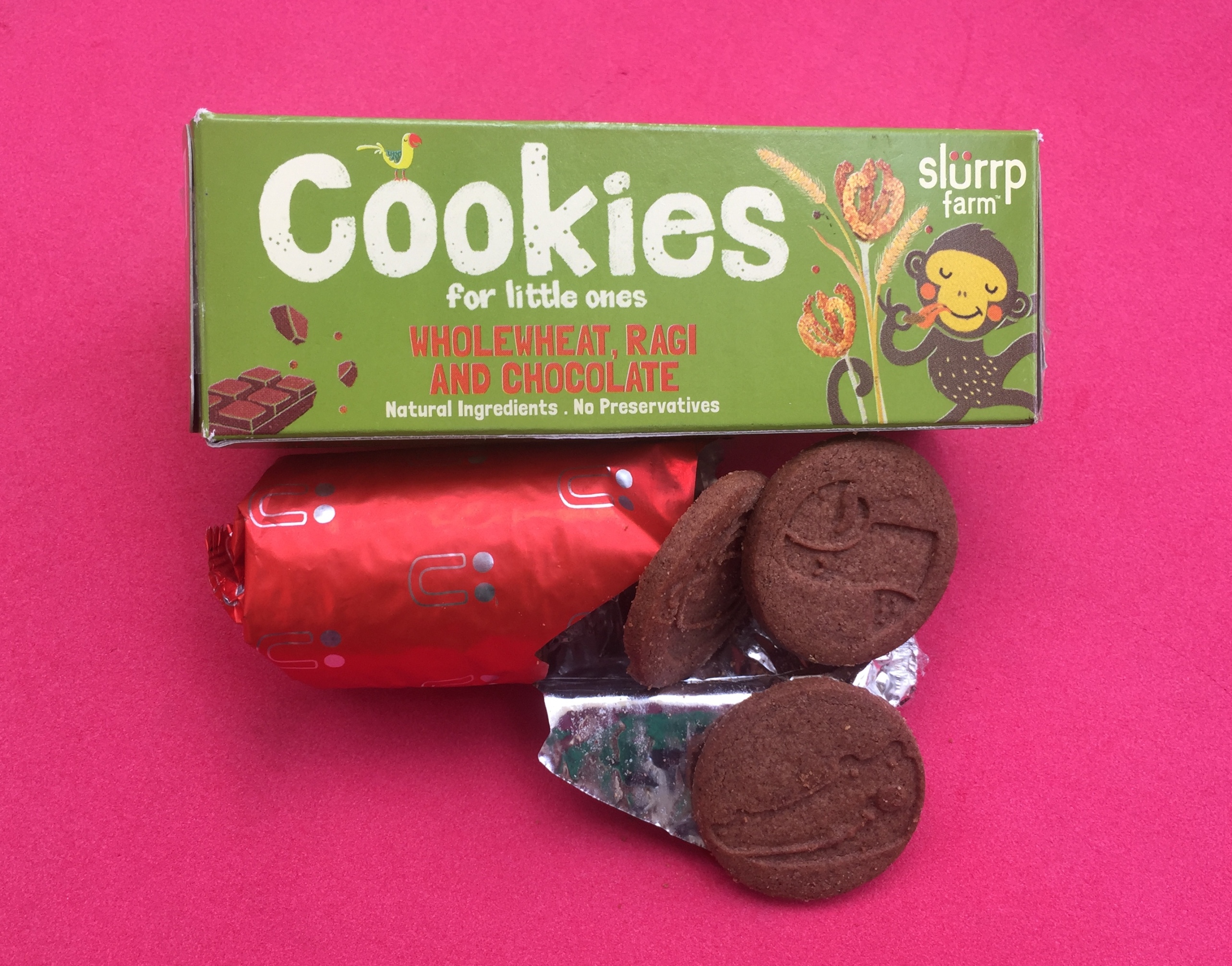 Taste – I think it's a mixed bag. The Slurrp Farm Wholewheat, Ragi & Chocolate cookies are by far our favourite and a regular staple in the snacks cupboard. The Wholewheat & Cheese are quite disappointing with low flavour & taste. The Oats & Banana version falls somewhere in between.
A point to be mentioned here is that Slurrp Farm cookies tend to be crumblier than regular store biscuits.
Variety – Slurrp Farm Cookies come in three variants,
Wholewheat, Ragi & Chocolate
Wholewheat & Cheese
Oats, Honey, Banana & Raisins
Ingredients – All real & natural stuff, proper wholewheat flour, ragi flour, butter, honey, banana, etc, with absolutely no preservatives, artificial flavours or stabilisers (hence the crumbly cookie).
Portion Size – None mentioned.
Appeal To
Children – Children will love some of the cookies while being ambivalent towards the others. One really good thing is the size of each cookie is rather small making it easier to restrict children's consumption quantities.
Weightwatchers – If biscuits are your weakness, it's better to have two of these than any other type.
Workout Snack – Nope.
Online, Slurrp Farm products are available on
Offline, you can buy them from select retail stores in metros.
Pricing
Slurrp Farm Cookies are expensive with each 75gm pack retailing at ₹99. But most child friendly naturally-made products seem to exist in this price range, so, by that standard, the pricing is fair.
Overall Appeal
3.5/5
Disclaimer: While I don't know Meghana or Shauravi personally, they are friends of friends and I have been following the Slurrp Farm brand for a while.