Ragi or Finger Millet is pretty much the flavour of the season in India these days. Ragi Breakfast Recipes of Ragi dosa, ragi laddoo, ragi chapaati are all over the internet!
So it wasn't a surprise when I came across Soulfull Ragi Bites, a ready to eat breakfast cereal made of 50% ragi (yes, truly!) and filled with chocolate, vanilla, strawberry and mango flavours.
Soulful Ragi Bites Review
I stumbled across Soulfull again and again. Modern trade shelves, POS advertising on kirana shops and online recommendations on Amazon.in, I found I just couldn't ignore it. And so the Soulful Ragi Bites review became inevitable and important. Because if healthy ready-to-eat snacks were going mainstream, it could only mean better things for us consumers. Hurray!
About the Product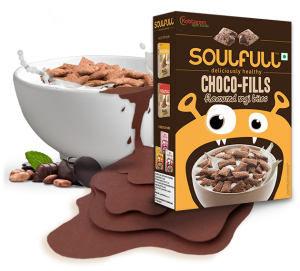 Packaging – Soulfull Ragi Bites comes in typical breakfast cereal packaging, aka the cardboard box in various sizes and flavours. And also in 35gm single serving puffy packs (normally sold in sets of 6). I had bought just such a set of 6 containing a mix of Choco Fills and Vanilla Fills. The product stayed fresh and crunchy even beyond the expiry date mentioned.
Taste – Soulfull Ragi Bites taste pretty good. Like Chocos, but better, because you know it's got 50% ragi! Crunchy, flavourful and perfectly bite sized are some phrases that immediately come to mind.
Variety – There are 4 variants of Soulfull Ragi Bites that can be found both online and offline: Choco Fills, Vanilla Fills, Strawberry Fills and Mango Fills. Apart from that, Soulfull has an ever expanding selection of Breakfast Muesli, Flakes, Loops and other ready-to-eat breakfast cereals.
Ingredients – This is where things start going a little iffy. Soulfull Ragi Bites contain 50% ragi and Bengal gram dal as well. A big thumbs up to that. Especially, because finger millet is a powerhouse of Calcium, Iron, Protein & Fibre. Plus there are no trans fats or maida, so it's a gluten free treat!
However, when they claim 'No Preservatives' (and sing paeans to it on their website), I take exception to that. Souldfull Ragi Bites contains artificial flavourings, acidity regulators etc. 'No Preservatives' is simply a technical term because none of their ingredients fall under the listing of preservatives by WHO. It does NOT mean 'No Chemicals' but that's the message that comes across.
Moreover, as is common in most packaged food, Soulfull uses both Edible Palm Oil and Hydrogenated Vegetable Fat. These are both partially or fully hydrogenated fats (trans fats) that are bad for health as the body cannot absorb them. Although the vegetable fat type is not mentioned, and because they specifically state 'no trans fats' on their packaging, I can give them the benefit of doubt and assume only partially hydrogenated fat has been used. Which means it's better than trans fat but my no means is it a health food.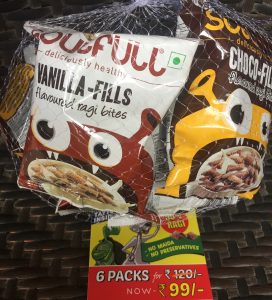 And of course there is the sugar. As per my calculations, each portion of the 35gm pack contains about 2-3 spoonfuls of added sugar, which is more than 50% of the daily sugar recommended for preschoolers and about 25% of the higher limit recommended for a 2000 calorie/day eating adult.
So this claim of 'We are good for you' because we use ragi instead of maida, doesn't sit well. Frankly, it comes across as false advertising (and this is a whole new topic I am going to write up on at a later date). And it made me more cross at them than necessary because I genuinely loved Soulfull Ragi Bites and have been using them frequently as a convenient travel food. I felt cheated.
Portion Size – Another grouse I have with Soulfull is the lack of clarity in terms of portioning. Supposedly the 35gm pouch pack is a single portion. But for whom, adults or kids? Because the product is targeting kids for sure. Also, the large cardboard packaging mentions a single serving as 30gms along with a 120ml portion of milk, leading to confusion.
Appeal To
Children – If your kids like Chocos, they'll love Soulfull Ragi Bites too, especially the chocolate version. The other flavours will come down to individual preference. Also, the single serve packs mean that carrying it while travelling will save on a lot of food related anguish for parents.
Weightwatchers – Breakfast cereals with the exception of unsugared muesli, are absolute no-nos for people watching their waistlines.
Workout Snack – Not recommended at all.
Where Can I Buy From?
Soulfull Ragi Bites are incredibly easy to find. Almost all well-stocked kirana stores and supermarkets will carry these. Online, they are available here and at all the usual suspects like Amazon, BigBasket and any other grocers.
Pricing
The pricing of Soulfull Ragi Bites is killer! The 6 piece pack I bought can be had for just ₹99. And the 250gm cardboard box starts from ₹149.
Overall Appeal
3/5
Wrap Up Thoughts: I prefer letting my daughter eat Soulfull Ragi Choco Bites as a travel time snack as opposed to other chocolate breakfast cereals. However, I consider them as much a treat as any of the other sweet stuff she eats. Repeat, it's NOT a healthy snack.