Kids take to cookies like fish to water. I have yet to come across a child who doesn't like cookies, be they sweet, salty, hand-made, factory processed, or some other type.
Early Foods seems to have used that insight to introduce their range of cookies. The promising thing about their cookies, though, is, that they are made using organic ingredients and formulated keeping young kids in mind. Moreover, they were created after the successful launch of Early Foods' weaning foods. Thus, recipe combinations and flavour profiles were already down pat. And it shows.
Early Foods Cookies Review
About the Product
Packaging – Early Foods Cookies come in conventional biscuit packaging, with a cuboidal cardboard box and a food grade inner packaging. The graphics are a little dull compared to the cute-sy stuff in the market today. All the heavy talk about health and organic ingredients is obviously designed to appeal to mom more than to kiddo. Nevertheless, the packs are bright-coloured and the inner aluminium cover keeps the cookies fresh even a few weeks after opening.
The cookies themselves are nice looking, solid types. They don't crumble easily and pack a nice bite. Like other kid focused cookies, these too have different designs on each flavour.
Taste – The Early Foods website lists the cookies under its Jaggery Snacks tab. And they are not kidding. The jaggery flavour is very distinctive and seeps through even in the chocolate variant. And the result is still very pleasing.
Variety – Early Foods currently offers 5 types of cookies, viz.,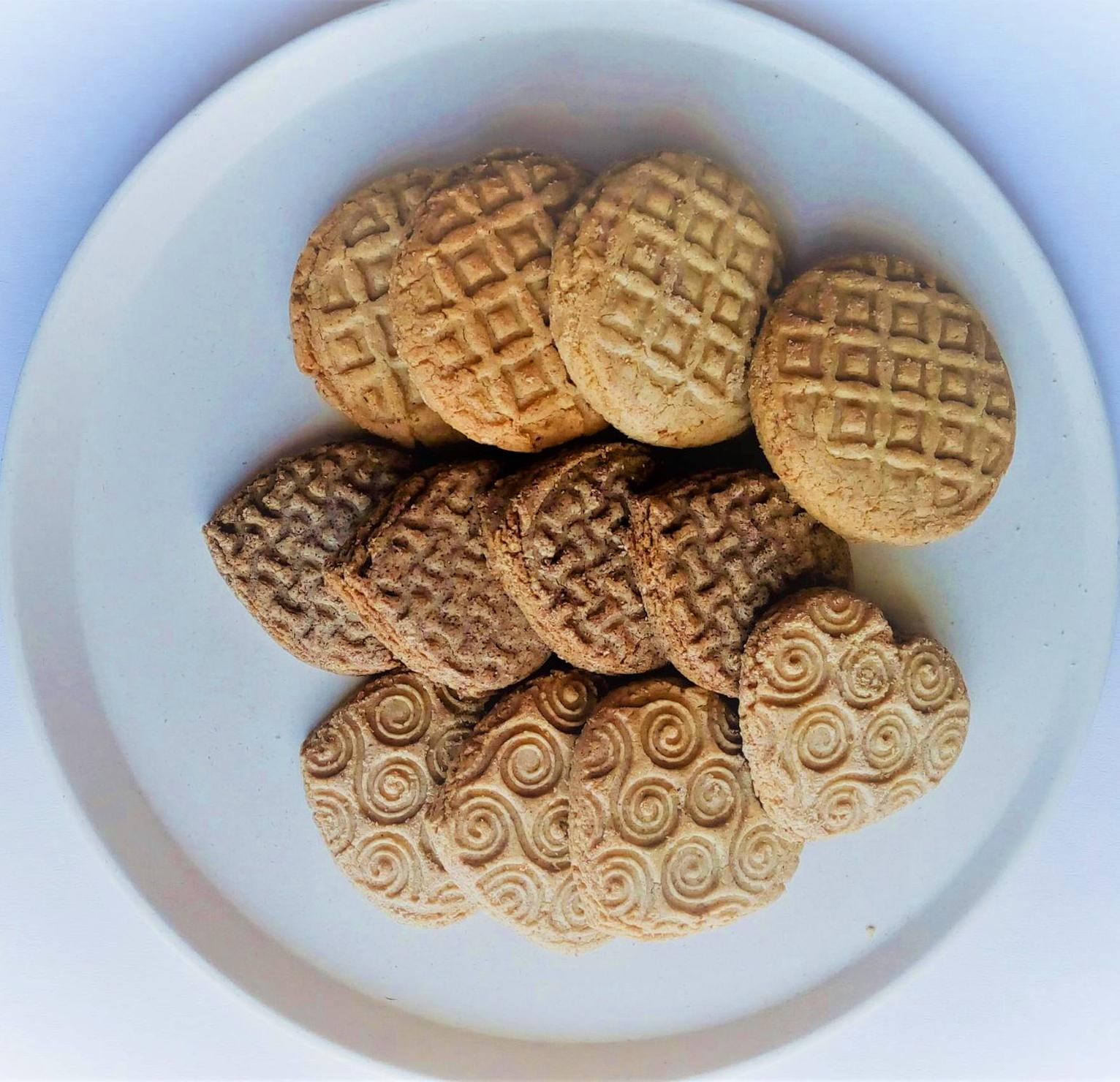 Organic Ragi Choco Jaggery Cookies
Organic Sattu Maavu Jaggery Cookies
Organic Ragi Amaranth Jaggery Cookies
Organic Dry Fruit Jaggery Cookies
Organic Ajwain Jaggery Cookies
Ingredients – Early Foods Organic Cookies for Kids uses 100% certified organic whole grains in all their products. This includes, whole wheat flour and whole millet flour (ragi, bajra, amaranth, foxtail etc.). Organic jaggery and cow butter are other ingredients used. Non organic ingredients include various nuts & seeds, spices, milk, & others.
The following, though, is off the Early Foods table: refined wheat flour (maida), white sugar, soda & baking powder.
Portion Size – The Early Foods Cookies package clearly lists the portion size for kids.  This healthy food for babies recommends 1-2 pieces per day for them.
The sensitivity of a parent seems to have knocked over the sales pitch of the business owner. Ten points to that!
Appeal To
Children – As I mentioned earlier, children love biscuits in any form and these will be no exception. In my house, Early Foods cookies were an equally big hit with the adults.
Weightwatchers – Duh.. no! But if cookies are what you are pining for, these are better than any other you'll find.
Workout Snack – As a cheat, have the cookies pre-workout. Best though, would be to stay away from them.
Early Foods cookies can be bought at the LFD Shop, www.earlyfoods.com, Amazon.in, MyDhaba, Baby Oodles & Angoor.
Pricing
I did a double take when I saw the price. I mean, a home grown brand charging ₹200 for a pack of biscuits is a bit much, no? But that was before I noted that each cookie pack was a solid 150gms. And for that the ₹199 price tag is in line with what most artisanal brands charge. In fact, considering Early Foods cookies uses such a plethora or organic ingredients, the pricing is quite reasonable.
Overall Appeal
4.5/5