I read about DesiVDesi in a newspaper article a few months ago praising their patented solar drying technology used to convert fruits & vegetables into healthy chips. The article also stressed on how the young founding team was creating a wonderful social enterprise that not only helped farmers by buying their excess crop but also saved a huge amount of the wasted food that is the ugly reality in our country.
It tugged at all the right levers in my heart – food, sustainability, Indianness, social entrepreneurship. The DesiVDesi Chips Review was hence, inevitable.
Desivdesi Chips Review
About the Product
The DesiVDesi solar dried chips are essentially a snacking range, consisting of a mix of fruits and veggies. The fruit snacks are simply dried, while the veggie snacks have been amped with spices & condiments, a bit like Nutritatva.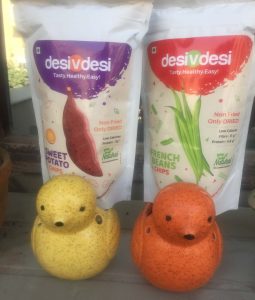 Packaging – DesiVDesi has a practical, hygienic packaging. Small sized pouch packs contain the dried fruit and dried veggies range. Easy to eat from, easy to carry and easy to reseal. Simplicity personified.
Taste – The fruit flavours from DesiVDesi were a runaway success! The kids demanded their personal chikoo packs and insisted on finishing them on their own. And that doesn't normally happen with anything remotely healthy. The others, including the Amla Kokum were liked too.
The veggie snack versions may not find favour with the kids. For sure, they enjoyed the beetroot chips in small quantities, but the sweet potato, spinach & beans were strictly for adults only. And that too, the health minded ones.
Variety – Perhaps DesiVDesi only packages produce that tends to get over harvested and is destined to rot, based on their ethos of saving waste. In which case, the eclectic mix of fruits and veggies makes sense. But I would still think that popular chip variants like potato, banana etc. may be a good introduction to their product portfolio.
As of now, DesiVDesi sells the following products
Healthy Fruit Chunks:

Sun Dried Chickoo Chips, Sun Dried Kokum Amla Candy, Sun Dried Mango Strips, Sun Dried Muskmelon Chunks, Sun Dried Papaya Chunks, Sun Dried Kiwi Slices & Sun Dried Pineapple Chunks

Healthy Veggie Chips:

Spinach Crisps, Beetroot Chips, Carrot Chips, French Beans Chips & Sweet Potato Chips
The entire range is not available all the time. In fact I haven't yet managed to try the complete fruit range; and that is probably a nod to seasonality. I actually wrote to their team because I couldn't locate everything I wanted to buy and was politely guided through what was available and what wasn't.
Personally, I totally approve of products being available in season only. Nowadays, most of us can't remember the seasons for fruit and veggies. As for our children, they cannot fathom the concept of seasonal produce at all!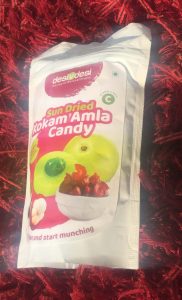 Ingredients – DesiVDesi products are the real thing. They are not made, they are not manufactured.  Simply picked, peeled, dried and spiced (veggie chips).
So there is no oil, sugar, chemical preservatives or colours or fortifiers (only Kokum Amla Candy contains sugar and Class II preservatives).
Portion Size – Some of the packs mention portion size as 15gms, while others like the Sun Dried Chikoo Chips don't mention anything at all. For a startup, I guess it's an evolution of packaging that I hope they rectify soon.
Appeal To
Children – The DesiVDesi fruit range is a runaway winner with the kids. But the veggie chips will be a harder sell. The blandness of the beetroot variant may appeal to some children. But the rest of the spiced versions will probably not find favour.
Weightwatchers – DesiVDesi promises good quality, low calorie munching benefits.
Workout Snack – The solar dried fruit chunks should be a good pre-workout energy booster. The veggie chips, on the other hand, will work well in-betweeners.
Where Can I Buy From?
DesiVDesi products are available at Amazon.in, Qtrove.com and Unfactory.in. Their own website is not e-commerce enabled yet.
Pricing
The pricing for DesiVDesi left me confused. It seems to range from ₹40 per pack to ₹100 per pack. However, some variants sell for ₹40 on Amazon with a ₹60 delivery charge, while they sell for ₹100 on Qtrove (an additional delivery charge may be applied by Qtrove here). Unfactory only carries packs of 3 which I think makes a lot of sense. Also, the pack size ranges from 25gms to 40gms.
Nevertheless, the products are not expensive.
Overall Appeal
4/5 (half extra point for the amazing work the DesiVDesi founders do).
What I'd love to see: As you can probably make out, I am falling in love with the ethos of this brand. It would be even more thrilling if they up their game by adding the below information in their packaging (or even just on the website)
Adult & Kid portion sizes for each product
Sourcing: Mentioning the region each fruit/vegetable was harvested from would be wonderful. Also welcome would be back stories on farms or farming practices of the suppliers.